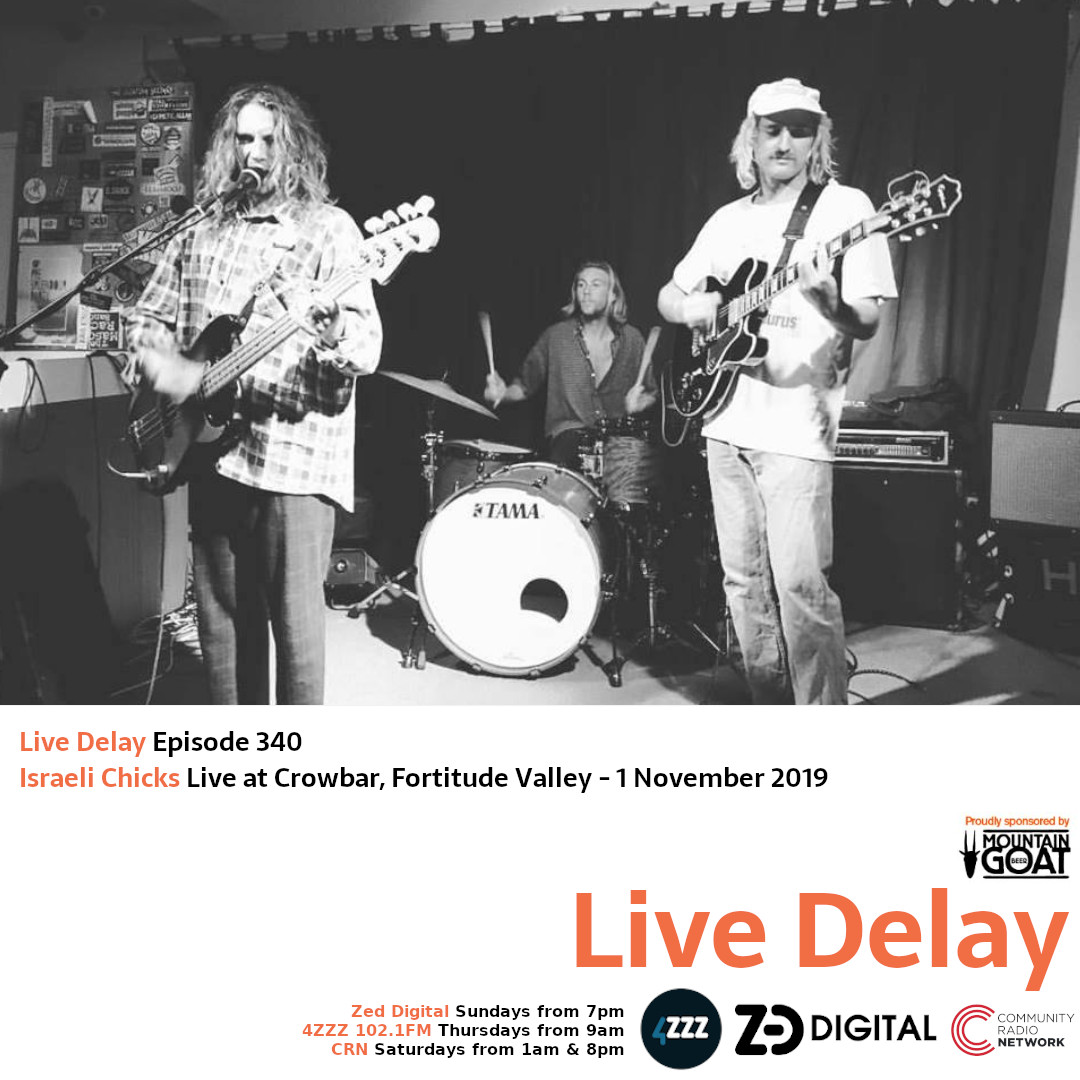 Live at Crowbar, Fortitude Valley, 1 November 2019
Contrary to their name, Israeli Chicks are actually a group of men from Byron Bay. With Sam Love on vocals and bass, Zar Harper on guitar and Louie O'Riordan on drums, the trio started off as housemates before forming a band and playing their first gig in 2016. The EP "I Love You Mum" came quickly the following year, followed by the "Ham & Egg Double" single in 2018 and "Natural Decline" EP in 2019.
Recorded by Sam Kelly
Mixed by Hugh Middleton
Special thanks to live engineer Ean Redman
This set was mixed by an audio production student from the School of Audio Engineering Institute Brisbane as part of their course.
Extra songs:
BLUSSH – "Sad Girls" live at the 4ZZZ Stage, Sonic Masala Fest, 17 August 2019
Recorded by Jack Brock
Mixed by Scott Mercer
Originally broadcast in Live Delay ep. 312
Life Strike – "Dear Life" live at the 4ZZZ Stage, Sonic Masala Fest, 17 August 2019
Recorded by Duncan Adamson
Mixed by Finn Diggles
Originally broadcast in Live Delay ep. 311
Bad Bangers – "Loyalty" live at The Bearded Lady, 22 December 2018
Recorded by Nell Forster & Scott Mercer
Mixed by Hugh Tyler
Originally broadcast in Live Delay ep. 310
Mum's Tennis Friends – "Olive" live at The Bearded Lady, 19 January 2020
Recorded by Nell Forster & Sam Kelly
Mixed by Finn Diggles
Originally broadcast in Live Delay ep. 314
Show production, engineering and host: Scott Mercer
Originally aired via Zed Digital, 7-8pm, Sunday 1 November, 2020