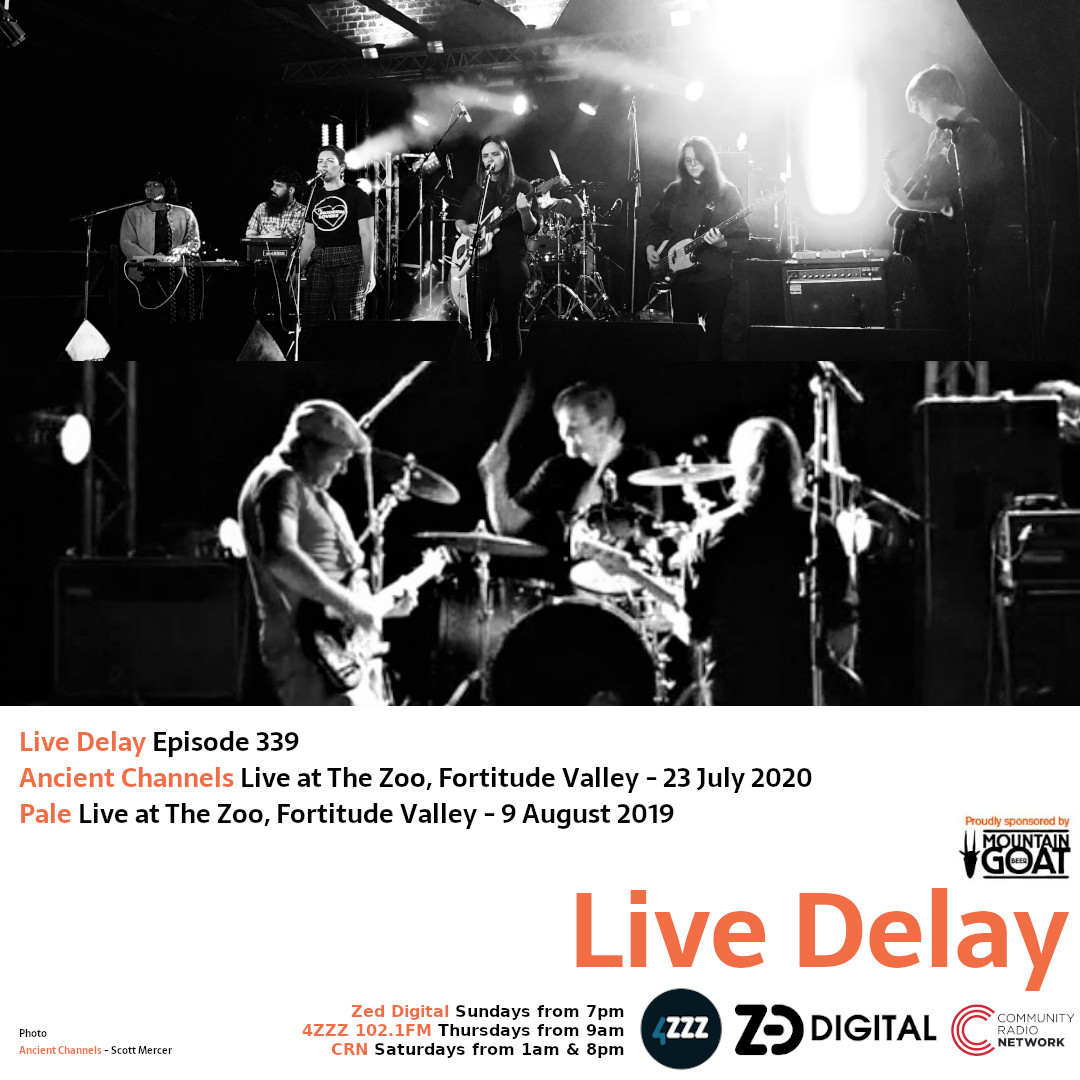 Photo:
Ancient Channels – Scott Mercer
Live at The Zoo, Fortitude Valley, 23 July 2020
In 2019 Kelly Hanlon from Terra Pines and DEAFCULT joined with Chris Preindl from Leavings, Apparitions and Vestiges to start a new musical project called Ancient Channels. With Hanlon on vocals, guitars and keyboards and Preindl handling drums and percussion, they recorded an album called "Moments In Ruin". While trickling out a string of singles ahead of the album's release, they recruited an all-star team to bring the multi-layered songs to life onstage, featuring talent from bands including A Country Practice, Start Together, The New Middle Class and Julia R. Anderson's band. In addition to Hanlon and Preindl, the full seven-piece lineup of Ancient Channels features Elise Clark on vocals, Gerard Lawrence on guitar, Joel and Kelly Saunders on keys and Imogen Kowalcyzk on bass.
This set you're about to hear is notable for two reasons. First, it was the debut live performance of Ancient Channels, and second, it was the first gig to be recorded by Live Delay since the easing of restrictions on live music venues that came about as a result of the COVID-19 pandemic. Special safety precautions were in place at this gig, such as isolated, jazz club-style seating, reduced venue capacity and stringent cleaning measures before and after the show.
Recorded by Scott Mercer
Mixed by James Potts
Special thanks to live engineer Steve Palmer
Pale:
Live at The Zoo, Fortitude Valley, 9 August 2019
In 1992 Tim Hills and Ben Thompson from the band The Modern Poets struck out on their own to form a new outfit called Pale. Soon joined by drummer Dale Rankine, their debut EP, "Submerged" was released on cassette later that year. This was followed by three further EPs on CD: "Fade Buzz" in 1994, "Felicia's Window" in 1995 and "Art Of Mind Control" in 1996. The single "Lemon Sparked", off "Fade Buzz", reached number 62 in the 1994 Triple J Hottest 100.
Rankine ultimately left the trio and was replaced by Leigh Nelson from the bands Freeside and Tangled Shoelaces. In the late '90s Pale's members began exploring more and more side projects, and they eventually split in 2001 after the release of the album "Travelling Indoors". Since then they have reunited for special occasions in 2006, 2014 and most recently in 2019, at this gig you're about to hear, which featured both drummers from the band's history taking turns behind the kit.
Recorded by James Fearn-Wannan
Mixed by Harry McKenzie
Special thanks to live engineer Steve Palmer
This set was mixed by an audio production student from the School of Audio Engineering Institute Brisbane as part of their course.
Show production, engineering and host: Scott Mercer
Originally aired via Zed Digital, 7-8pm, Sunday 25 October, 2020