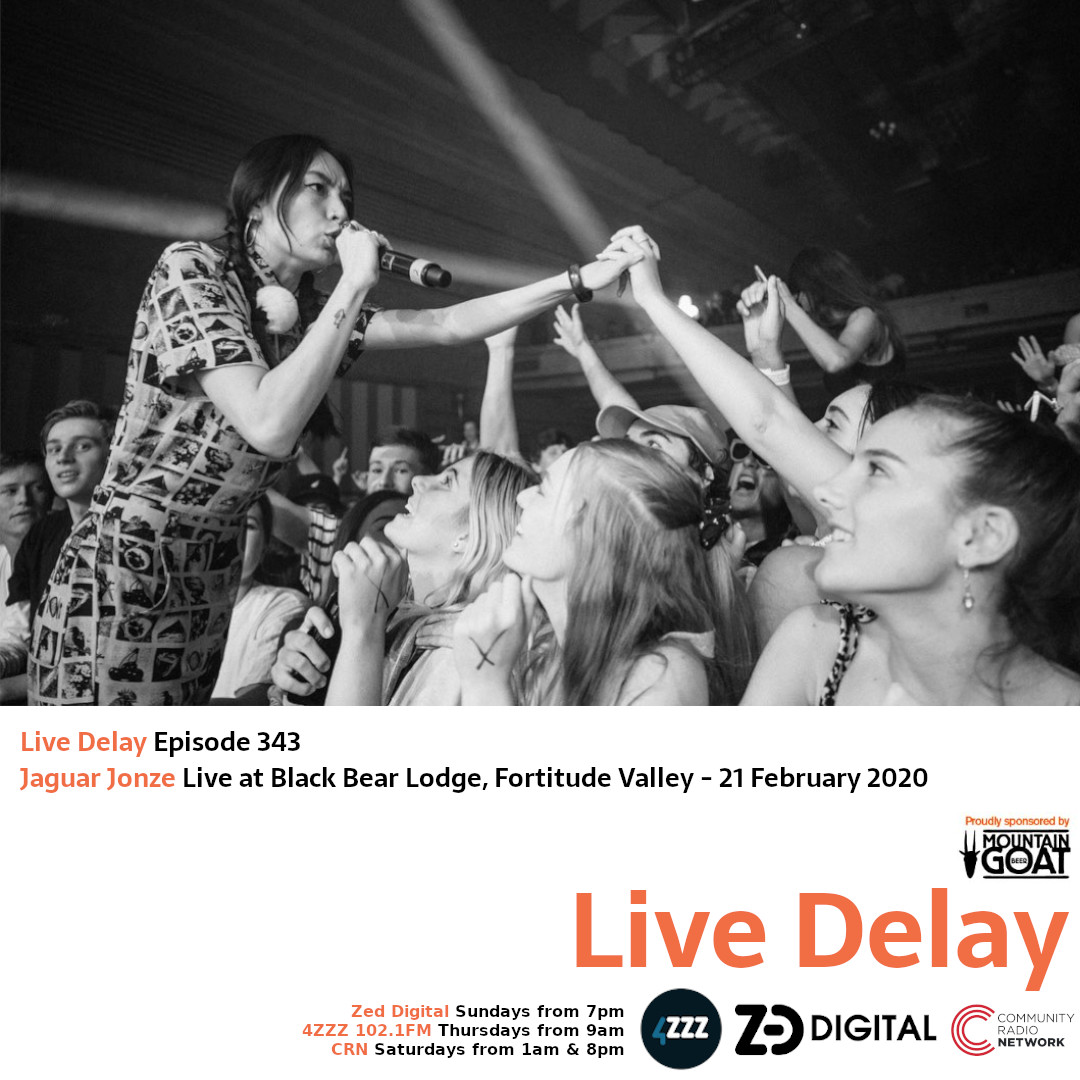 Live at Black Bear Lodge, Fortitude Valley, 21 July 2019
Jaguar Jonze is the musical guise of Brisbane creative Deena Lynch. She began her career in music recording under her first name, Deena, releasing the albums "Lone Wolf" in 2012 and "Black Cat" in 2015. In the late 2010s she began a series of creative projects across several disciplines, each with their own name: Dusky Jonze for photography, Spectator Jonze for visual art, and Jaguar Jonze for music.
After years of hard work in the industry and a string of singles, 2020 was to be a huge year for Lynch. In February she competed in the Australian selection event of the Eurovision Song Contest, dislocating a shoulder during her performance. In March she embarked on what was supposed to be a career-making promotional tour of the United States, but the COVID-19 pandemic cut short the trip almost immediately. Adding injury to insult, shortly after returning to Australia Lynch was diagnosed with COVID herself, and spent several months recovering. In April the debut Jaguar Jonze EP "Diamonds And Liquid Gold" was released as she sat in the back of an ambulance.
This set you're about to hear was recorded in Brisbane between Lynch's Eurovision and American adventures. She was backed on the night by Joe Fallon on guitar, Aidan Hogg on bass and Jacob Mann on drums.
Recorded by Scott Mercer
Mixed by Jack Davidson
Special thanks to live engineer Nell Forster
This set was mixed by an audio production student from the School of Audio Engineering Institute Brisbane as part of their course.
Extra songs:
Lucy Francesca Dron – "In This Time" live at The Bearded Lady, 14 March 2020
Recorded by Nell Forster
Mixed by Jack B-Jones
Originally broadcast in Live Delay ep. 316

Timi Temple – "No Where" live at Greaser, 21 November 2019
Recorded by Scott Mercer & Taine Josephson
Mixed by Zac Van Itallie
Originally broadcast in Live Delay ep. 317

Michael Beach & The Artists – "The Fool" live at the 4ZZZ Stage, Sonic Masala Fest, 17 August 2019
Recorded by Duncan Adamson
Mixed by Tyrell Shortt
Originally broadcast in Live Delay ep. 318
Due to prior arrangement with the artist/management, we are unable to provide this episode for streaming.
Show production, engineering and host: Scott Mercer
Originally aired via Zed Digital, 7-8pm, Sunday 13 December, 2020