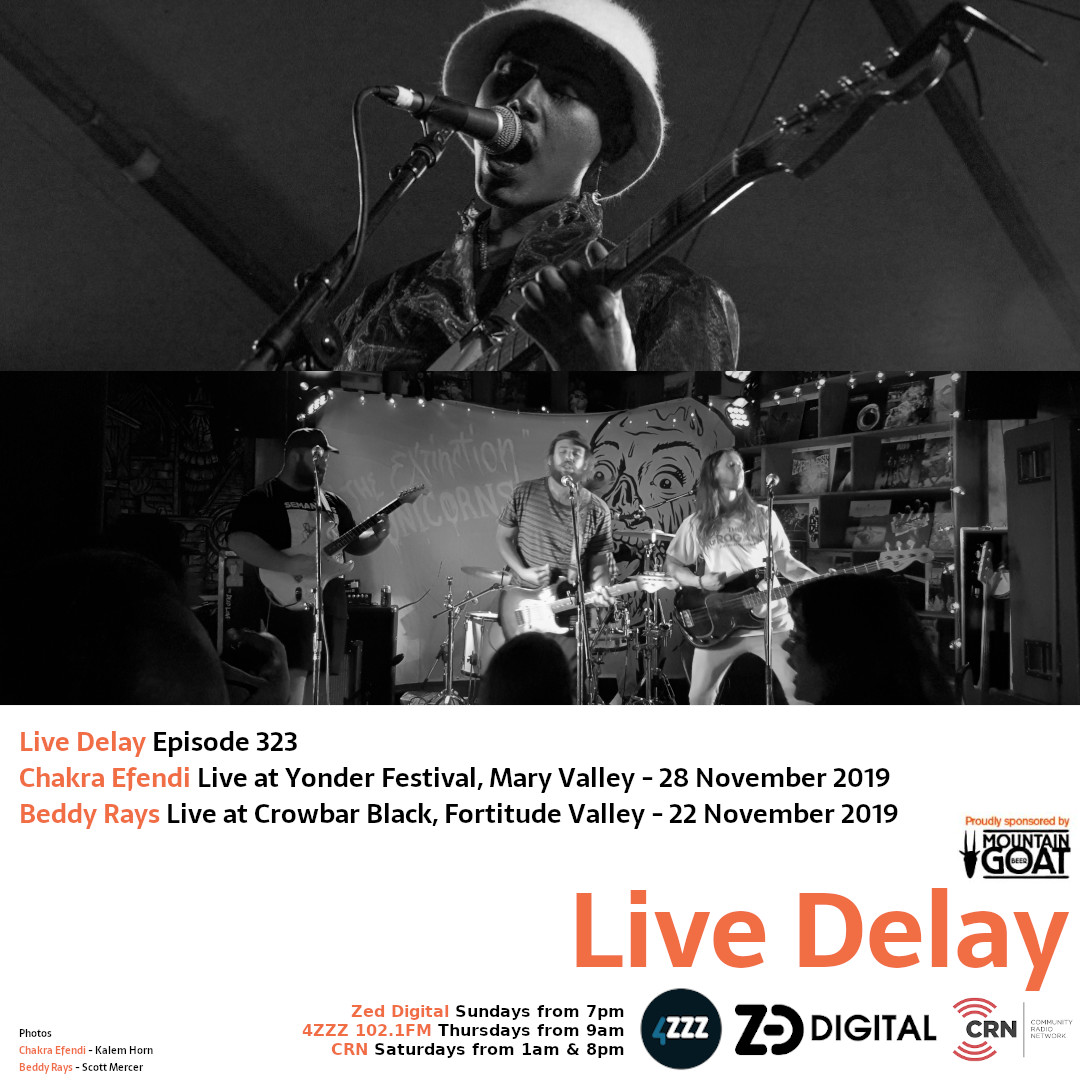 Photos:
Chakra Efendi – Kalem Horn
Beddy Rays – Scott Mercer

Live at Yonder Festival, Mary Valley, 28 November 2019
Chakra Efendi grew up between Nambour on the Sunshine Coast and Indonesia, drawing inspiration from their mother's appreciation of post-punk and their father's passion for hip-hop and EDM. Barely out of their teens, they've been remarkably prolific, with an impressive string of singles released in the past two years along with the EP "Until The Children Grow Old". Efendi has gone from recording solo in their bedroom to leading an accomplished, full-fledged band, as you are about to hear.
Recorded by Lauren Holyoak
Mixed by Joe McCormack
This set was mixed by an audio production student from the Queensland University of Technology as part of their course. We'd like to give special thanks to Yanto Browning and John Willsteed at QUT for facilitating this collaboration.
Live at Crowbar Black, Fortitude Valley, 22 November 2019
The four members of Beddy Rays – Jackson Van Issum on guitar and vocals, Bradley O'Connor on bass, Lewis McKenna on guitar and Ben Wade on drums – all met in primary school and have been inseparable ever since. Taking their band name from their home, Redland Bay, they released their debut EP, "Lost Found Beat Around" in 2017. A string of singles have followed, along with countless shows including a tour supporting Tones And I.
Recorded by Conner McDonald and Katherine Williams
Mixed by Neo McBunker
This set was mixed by an audio production student from the School of Audio Engineering Institute Brisbane as part of their course.
4ZZZ Live Delay · Live Delay – Ep 323 – Chakra Efendi and Beddy Rays
Show production, engineering and host: Scott Mercer
Originally aired via Zed Digital, 7-8pm, Sunday 28 June, 2020