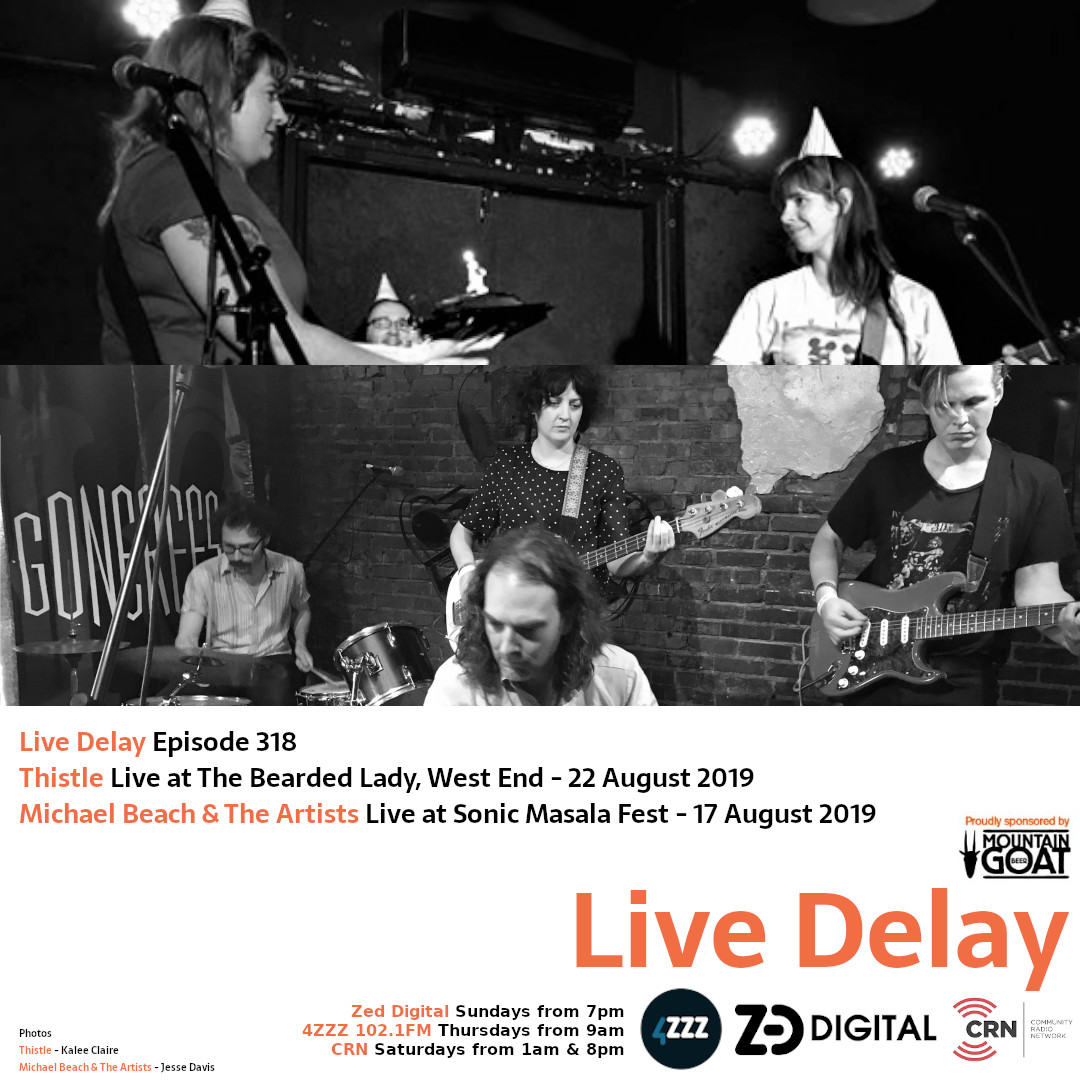 Photo:
Thistle – Kalee Claire
Michael Beach & The Artists – Jesse Davis

Live at The Bearded Lady, West End, 22 August 2019
Thistle are a Brisbane trio made up of Kassie Sofia on guitar and vocals, Caroline "Canna" Townsend on bass and Joe Teague on drums. As you'll hear in this set, they celebrated their first anniversary as a band together in August 2019 with some partying live onstage. To paint you a picture, during the set they wore party hats and presented themselves with a supermarket-bought chocolate cake.
Recorded by Matthew Malone & Scott Mercer
Mixed by Sam Louis
Live at Sonic Masala Fest, Greenslopes Bowls Club, 17 August 2019
Michael Beach is originally from the town of Merced in central California. After moving to Melbourne he fell in with the local music community, playing in bands such as Meercaz, Colossal Yes and Electric Jellyfish, which later evolved into Shovels. His first record as Michael Beach, "Blood Courses", came out in 2008 and the most recent 7″ "Curtain Of Night" in 2019. The current incarnation of his backing band, The Artists, consists of Peter Warden (who he also played with in Electric Jellyfish and Shovels) and Innez Tulloch and Matt Ford from Thigh Master.
Recorded by Duncan Adamson
Mixed by Tyrell Short
This set was mixed by an audio production student from the School of Audio Engineering Institute Brisbane as part of their course.
Show production, engineering and host: Scott Mercer
Originally aired via Zed Digital, 7-8pm, Sunday 24 May, 2020