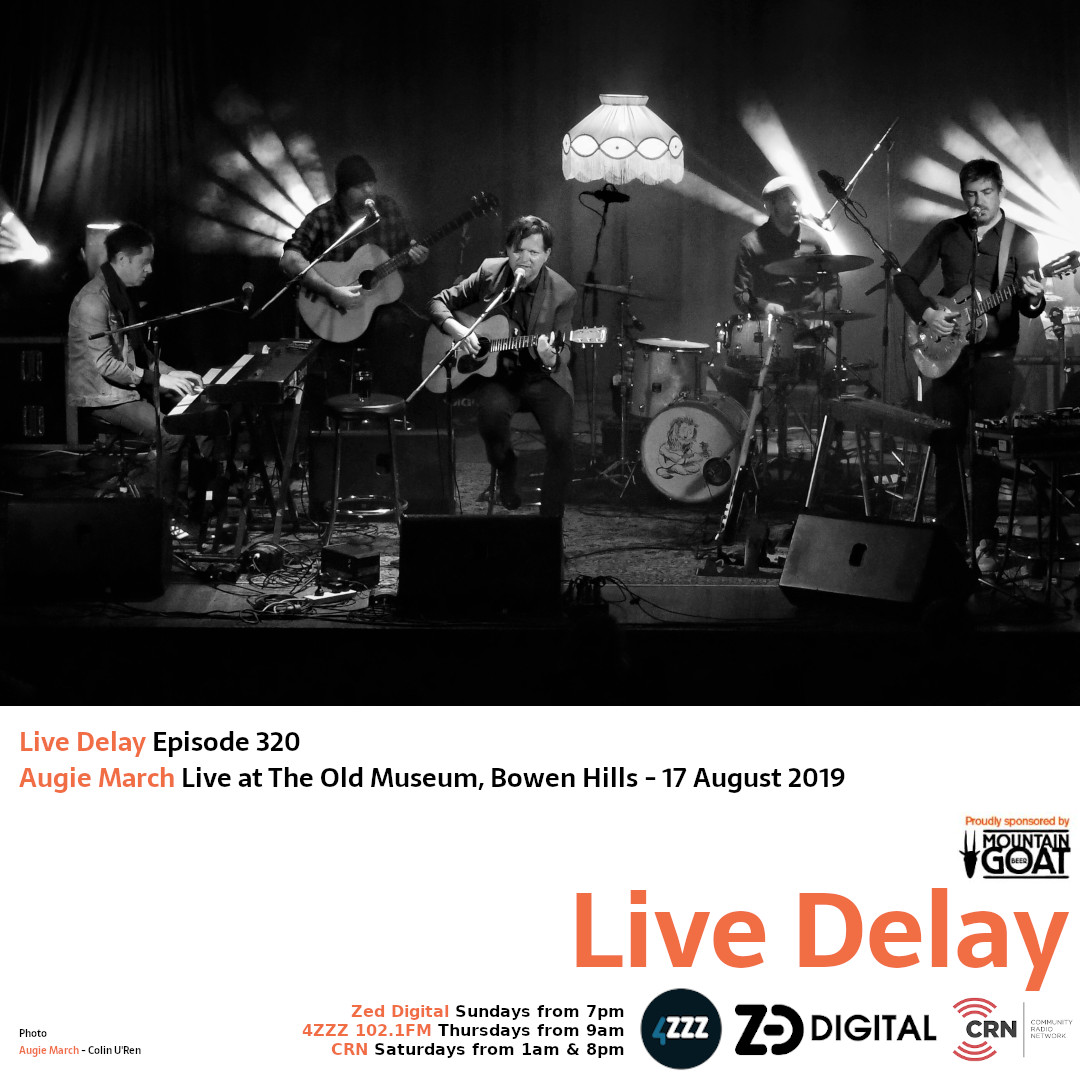 Photo:
Augie March – Colin U'ren

Live at The Old Museum, Bowen Hills, 17 August 2019
From humble origins in Shepparton, Victoria, the story of Augie March has wound its way through periods of underrated accomplishment, untimely deaths, six albums, national and international tours, award wins and nominations, and the occasional lengthy hiatus. Singer/guitarist Glenn Richards, guitarist Adam Donovan, bass player Edmondo Ammendola and drummer David Williams first came together in 1996 as tertiary students. The band name was taken from the protagonist of a novel by Canadian-American author Saul Bellow.
The band's first two EPs, "Thanks for the Memes" (1998) and "Waltz" (1999) were released on Ra Records. For the recording of debut album "Sunset Studies" (2000) Glenn Richards's friend Rob Dawson was brought in to play piano, though he tragically died in a car accident in January 2001. Kiernan Box was brought onboard to play keys for second album "Strange Bird" in 2002 and the lineup has remained stable ever since.
Maintaining what might be described as a modest, though devoted fanbase was blown out of the water in 2006 with the release of third album "Moo, You Bloody Choir", which was nominated for ARIA Album of the Year and won the Australian Music Prize. Lead single "One Crowded Hour" took out APRA's Song of the Year and was voted number one in Triple J's Hottest 100.
The success of "Moo, You Bloody Choir" led to new opportunities for the band such as North American tours, support slots with acts including Andrew Bird and Crowded House and two special concerts at Kings Park in Perth with the West Australian Symphony Orchestra. Fourth album "Watch Me Disappear" was released in 2008 and the following year Augie March embarked on stripped-back tour of the east coast dubbed "On The Quiet", with mostly acoustic instruments. Shortly after, the band took a major hiatus, and in 2010 Glenn Richards released a solo album, titled "Glimjack".
Since then the band have come back together to record the albums "Havens Dumb" in 2014 and "Bootikins" in 2018. "Bootikins" was produced by longtime Nick Cave collaborator Tony Cohen, who was lured out of retirement to work with the band, although he died before the album was finished.
In 2019 Augie March played a 10th anniversary "On The Quiet" tour, stopping in Brisbane to perform to a reverent audience at The Old Museum. While the music may sound beautiful and even sombre, the band were in a jovial mood between songs and we are pleased to have preserved the majority of their banter for the enjoyment of the listener.
Recorded by Blake Howson
Mixed by Conner McDonald
Special thanks to live engineer Brendan Wright
4ZZZ Live Delay · Live Delay – Ep 320 – Augie March Part 1
Show production, engineering and host: Scott Mercer
Originally aired via Zed Digital, 7-8pm, Sunday 7 June, 2020